Experienced chef and business owner takes over the cooking classroom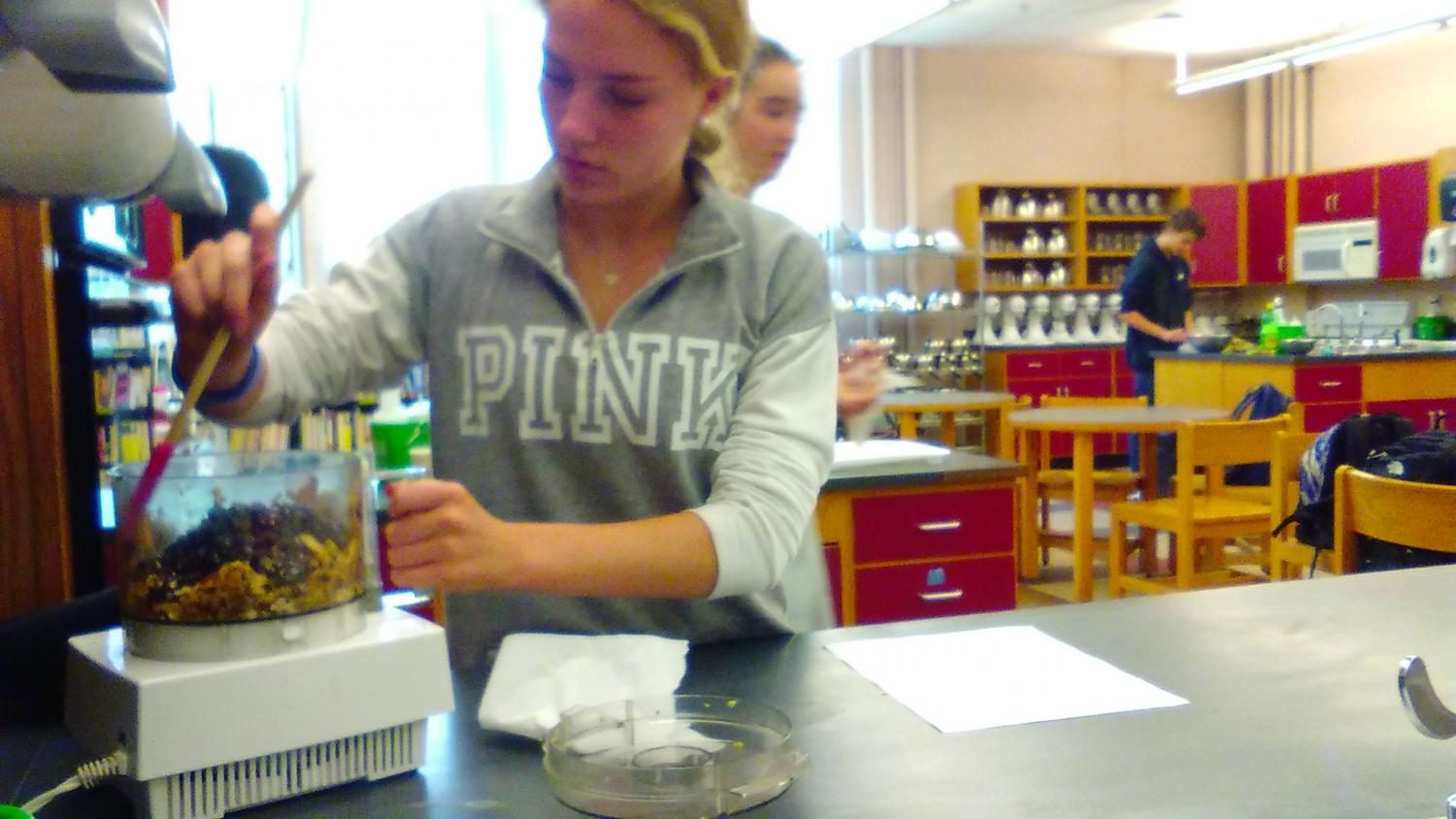 Matthew Sakai, Staff Writer
May 11, 2017
The enticing smell of pizza or corn bread or cookies wafts out of the the cooking classroom, inviting passersby to pause and look inside. This is all thanks to cooking teacher Chef Eunice Feller, who joined the WHS faculty in February.
Before coming to Weston, Feller had experience teaching recreational classes to a wide range of students.
"I've taught from little kids all the way to adults, [both] in the bakery [and in] more recreational settings where they come in for three hours. [In these classes] they are able to learn how to make cupcakes or how to make a filet mignon or how to make French pastries," Feller said.
Feller said she always knew that she would teach one day because her grandmother and mother were both teachers. She said she was inspired to apply for the position when she heard about it from her friend, chemistry teacher Abigail South.
When asked about Feller, students in her classes had many positive things to say.
"[She] is nice and really helpful. She has a lot of experience and is very passionate about cooking," junior Sofie Gilbert said.
For the last 10 years, Feller has owned and operated two bakeries in Newton. Early on, her Bread & Chocolate bakery café was recognized by many companies for its excellence.
"When we first opened, we were noticed by the Boston Globe, Boston Magazine, and Best of Boston. We did a little skit on Curious George on PBS, and [were] voted the best bakery in the MetroWest," Feller said.
History teacher Michiko Kurata said she was thrilled when Feller agreed to be a guest speaker for her Economics class.  Kurata said she respects Feller as an artist and a business woman who is an extraordinary role model for young people.
"She has a Bachelor's in sculpture and Master's in oil painting. She became an artist despite her parents' strong objections, to follow her passion," Kurata recalled from Feller's presentation. "Since her parents refused to support her financially at all, she paid her way through college (after exhausting the full scholarship for the first 2 years of college), working as a cashier at an art supply store."
According to Kurata, Feller also spoke about her business experiences as Director of Merchandising at her own company, where she was in charge of $1 million to purchase the inventory for all four stores. It wasn't until she and her husband decided to go into the restaurant business that she went to culinary school and got her culinary arts degree, Kurata said.
"As an Asian American woman, she learned to dispel stereotypes and be a strong, smart, and outspoken businessperson. She said she is very happy to be free of the social constructs now, and encourages young people to not be afraid to become who they want to be," Kurata said.