New library rooms expand study options for different learning styles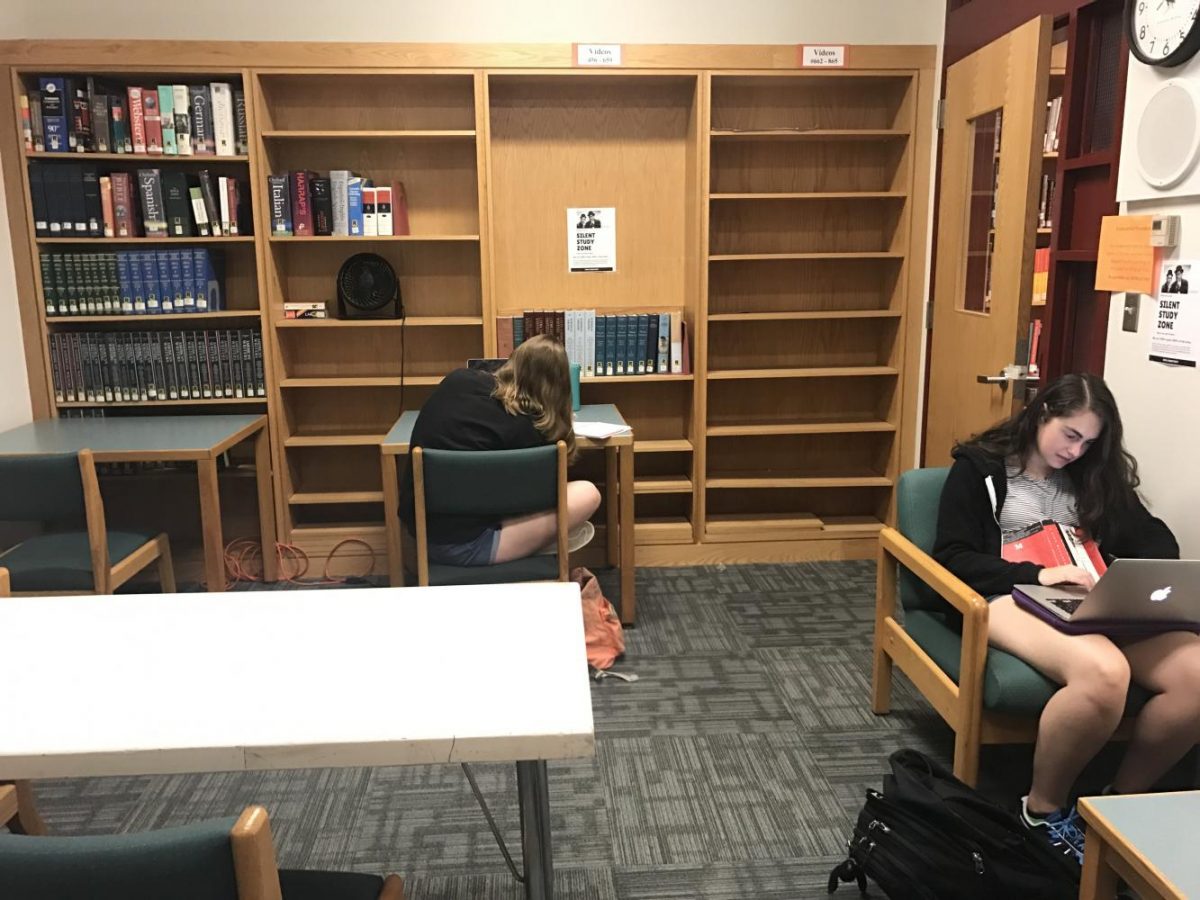 Danielle Feinstein
September 22, 2017
 Trying to finish those last five pages of textbook reading before your next class in a crowded library is a daunting task. The silent study room and collaborative learning lab are an effort to make the library more inclusive to all types of learners.
According to head librarian Alida Hanson, a vocal group of students and parents had been asking for a silent study room in the library.
"The noise level was rising in the main part of the library because students like to talk while working collaboratively," Hanson said. "When I tried to lower the noise, I saw that there was not one person making the room loud, just a lot of people at a talking at in a reasonable tone about their work. There was clearly a need for a silent study room." The room offers students a place to focus on their work with no distractions with a strictly enforced silence policy.
""Students and teachers both use the silent study room. The carpeting absorbs the sound so it feels like the room is totally soundproof," Hanson said.
Students have been taking advantage of the productive environment of the silent study room.
"I like it because other people aren't talking. It's nice because it's easy to focus on work with no distractions," senior Sarah Gottbetter said.
Other students have found it a great place to work with friends without getting distracted or off topic.
"The room is very relaxing and quiet, and it's easy to focus even with a lot of friends around," freshman Maggie Donahue said.
Another addition to the library is the collaborative learning lab which replaced the computer lab.
"All of the computers are gone and are replaced by desks with wheels. Classes can rearrange the room easily into whatever formation works best," Hanson said. "It's a great space to work collaboratively."
The lab can accommodate two full classes and has a projector for students to present or for classes to watch movies.
""Two weeks ago, Mr. Parker identified the collaborative room as a site for testing for students with IEP and extended time to keep tests secure," Hanson said.
The library had originally planned for one major renovation in the near future, but opted to make small changes over time.
"The silent study room and collaborative learning lab are an effort to accommodate all types of workers in our community," Hanson said.