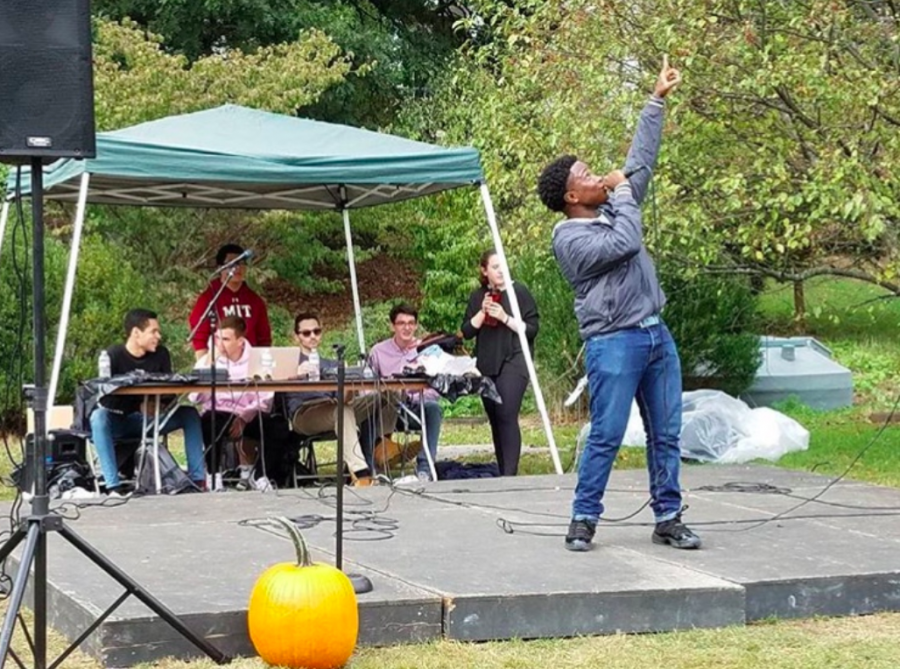 Aspiring rappers and musicians at WHS thrive using online mediums
It's a Friday afternoon in the library and a crowd of WHS students can be seen huddling around a computer, wearing headphones and bobbing their heads in unison. You would expect them to be listening to their favorite famous rapper, but they are actually listening to senior Kamar Atkins' latest song released on SoundCloud.
Over the past few years, a phenomenon has been on the rise at WHS and around the world. More and more teenagers are recording their own music and putting it online for their friends and peers to listen to and enjoy.
Junior Eche Onwuama is one of the many musicians at WHS to post on SoundCloud, a site where music of all kinds is posted for free.
"It's definitely a great platform for young rising artists coming up today," Onwuama said. "These days you put something out on SoundCloud, you can eventually get nominated for a Grammy."
This medium has allowed for a new wave of social media in which teens anywhere can post their music for free online and for the world to hear.
Freshman Saeed Luetje who goes by his rap title "Sasa Yg," commented on the large platform that SoundCloud provides.
"I got people listening to my music all around, [in] Kansas City, in Florida," Luetje said.
But SoundCloud isn't the only platform that WHS students are using to share their work. Youtube is another medium through which students are able to share their music with a wide audience of listeners.
Sophomore Kayla Silverman uses Youtube as her way to share her original pop songs, ballads, and covers.
"It's definitely accessible to everyone, and it's a huge source of all the different people and places and other countries you can connect with," Silverman said.
However, online is not the only way for students to share their art. Live performances are a key thing for musicians at WHS. This year Onwuama, Atkins, and Silverman have already performed at numerous school-wide assemblies.
In addition to live performances, music videos have become an increasingly popular form of expression for musicians at WHS. Sasa Yg recently produced a music video for his song "Black Lambo." Atkins also released a video recently titled "Photosynthesize," and Silverman releases videos weekly on her Youtube channel.
Despite their dedication and hopes for their music, these young artists face many challenges along the way. As musicians, they know what it feels like to receive negative comments and reviews. For these students in particular, being judged by their peers can be especially difficult.
For Luetje and Atkins, there is always a balance between the positive and negative feedback on their music. Even Silverman agrees that constructive criticism is better than plain criticism.
"When someone says, 'I didn't like this
because whatever…it's a lot better [than just getting hate]," Silverman said.
Onwuama has a different opinion and uses the criticism he receives as a compliment.
"I'll know that I've really made it when I see a lot of hateful and negative comments coming at me," Onwuama said.
Although these artists are still in high school, they are very serious about their work and enjoy connecting with a wide-ranging audience through their music.
"I like to say [my audience is] everybody because even adults can feel what I'm saying, [and] the youth especially, just because I'm one of them," Onwuama said. 
Silverman has similar hopes for her music and wants to influence people on a more personal level.
"I'd love to reach out to people [in song] and make them feel something," she added.
Overall, the artists focus on the good and keep doing what they love despite the negative comments. These young musicians know that they must persevere with their music despite others not supporting their passions.
"Some people are going to think it's a joke, but if you really like what you do, keep doing it," Atkins said.
Check out their music:
 soundcloud.com/sasayg,(Sasa yg)
 youtu.be/oMe7SIyPqDs (Kayla)
 soundcloud.com/echezonamusic, (Eche)