Behind the scenes with WHS athletic trainer Andrew Rizza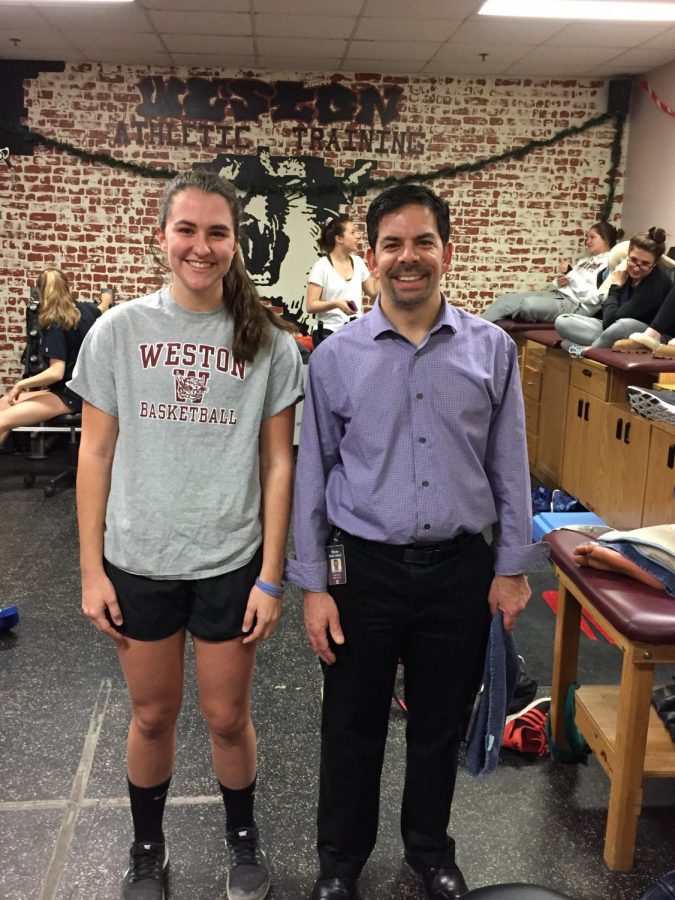 Alex Chaoul and Matthew Garfinkel, Editors
February 13, 2018
After more than 20 years at WHS, Rizza is still challenged and challenged every day on the job. Rizza dedicates 14 to 15 hours a day to perfect his craft and help students recover from injuries as fast as possible.
"I love it. If I didn't love it, I wouldn't do it every day and I wouldn't do the amount of hours that I do every week. I like working with the kids," Rizza said.
From a young age, Rizza had a passion for sports and decided early on that he wanted to  support people in their athletic endeavors.
"When I was younger, I was an athlete. Growing up, it kind of sparked my interest of working with athletes. My degree was a bachelor's of science and athletic training from Northeastern, which was a five-year program back then," Rizza said.
In his work at WHS, Rizza is known for his uncanny ability to take on the many challenges that come with treating athletes from a variety of sports backgrounds.
"I enjoy working with everybody because everything is different every day. There's always something new that comes in. We're dealing with different personalities, different people and the injury is never the same," Rizza said.
Recently, Rizza has worked closely with junior Whitney Sins and senior Andrew Black, both of whom struggle with torn ACL's. As a three-sport athlete, Black appreciates the tremendous work ethic that Rizza has demonstrated over the years.
"He has helped me through many injuries. I have experienced a broken bone in my lower leg, and we were able to do physical therapy on it and keep me on field. I have also been through shin splints many times and most recently I tore my ACL," Black said.
Three-sport athlete Sins was treated by Rizza after her ACL and meniscus injury from her sophomore soccer season and has since made a full recovery. Sins credits Rizza for her strong recovery and ability to play sports again.
"He helped me get my knee back to play sports again. There were many times where I was too lazy to do my exercises, but Riz always pushed me," Sins said.
Rizza appreciates the sense of community he feels in his position at WHS and enjoys collaborating with students and parents alike.
"The best thing about being in my position is the athletes who always come back and visit. The parents reach out if there is something wrong with them, so it makes me feel like I'm doing the right thing. It shows that both the athletes and parents appreciate my opinion, which is nice," Rizza said.
As Rizza continues to make his mark on the school community, his goal is to further grow the athletic training program.
"I would like to see somebody come in and continue the work that we've done. Building the relationships with the physicians that are in the area, with the parents, with the kids, with the faculty, and making sure that the plan of care with these kids continues."