Angad Jasuja's Work and His Accomplishment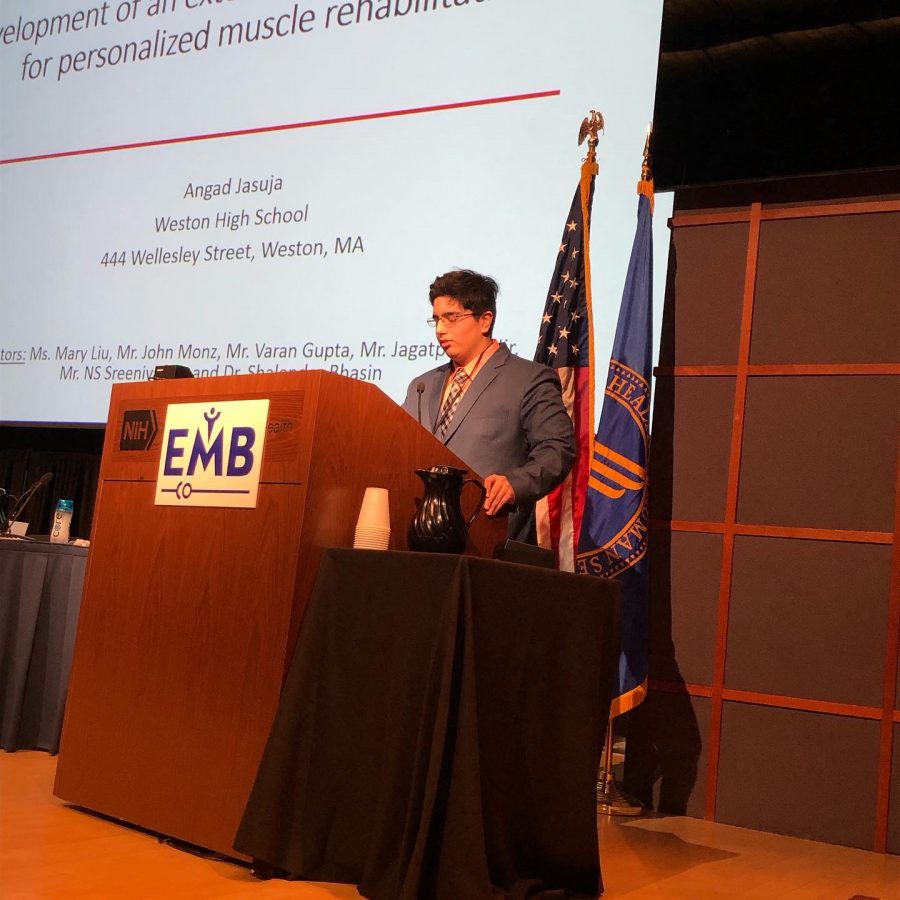 Julia Lawlor, Opinion editor
January 27, 2020
In late November, senior Angad Jasuja represented Weston High School when he attended and won the 2019 IEEE Healthcare Innovations and Point of Care Technologies Conference in Maryland.
In order to win this competition, Jasuja worked for an extensive period of time to create his final project. 
"I developed a functional electrical stimulation device for personal stroke rehabilitation," Jasuja stated. "It introduced a novel method of individualized rehabilitation for stroke patients that exhibit weakness in one side of their body."
In addition, AP Biology teacher Mary Liu expanded on his work that led to this accomplishment. 
"He needed perseverance to really develop the idea, do research, and learn new skills necessary for making a prototype. He went through many iterations of both the programming and device component, but also in his written paper and oral presentations," Liu said.
Jasuja started this project sophomore year in Honors Biology, and was able to work with outside of school sources to elaborate on his project, and eventually he became nominated based on his work.
"I submitted a four page paper for a peer reviewed publication describing the device and how it functions," Jasuja stated. "I submitted for the NIH/IEEE Healthcare Innovations and Point of Care Technologies conference where I was selected out of PhDs and Post docs globally to give an oral presentation in the 'Rising Stars in Healthcare Innovations session.'"
Besides this scientific accomplishment, Jasuja demonstrated qualities that show the type of person that he is today.
"Angad is not only a bright, hardworking student, but he is one of the most persistent people I have ever encountered," Liu stated. "Whether it's a question he is trying to answer or a project he is working on he is determined to get to the bottom of the matter devoting whatever time and energy it takes to figure it out."
Finally, Liu reflected on where Jasuja's qualities will take him in his future work.
"This type of resiliency, to continue despite failures, rejections, and mistakes has allowed him to accomplish great things and will enable him to take on even greater challenges," Liu stated.