WHS students attend D1 and D3 colleges for Lacrosse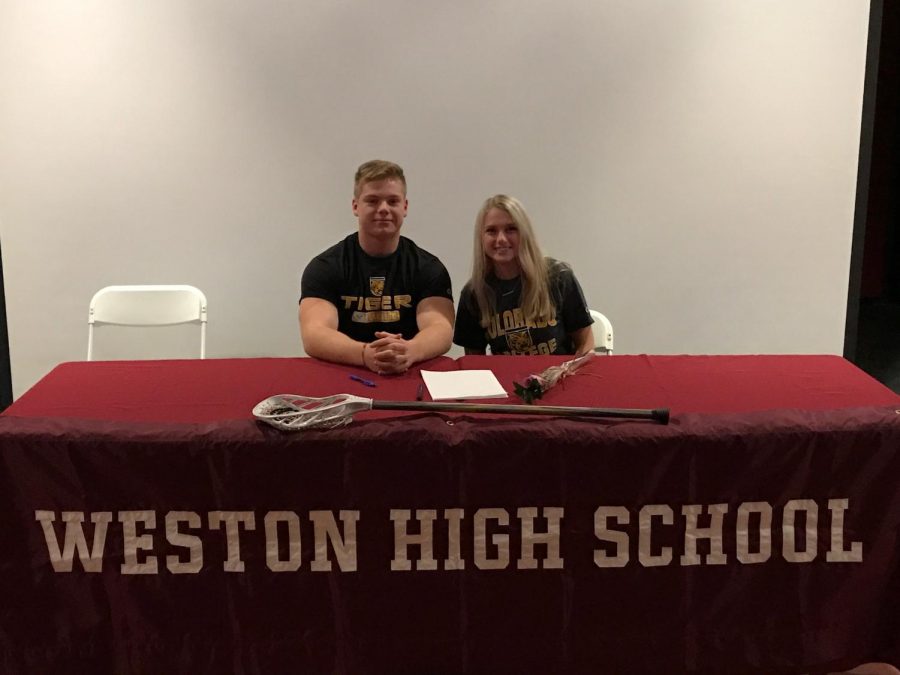 Emilia Tutun, Sports editor
June 11, 2020
After many years of training and persistence, three seniors at WHS have committed to play lacrosse at Division 3 and Division 1 colleges. Both Hayden Zeller and Amanda Lake committed to Colorado College and Krissy Kakridas committed to Merrimack College.  
Lake explained what excites her about beginning lacrosse at Colorado College. 
"I'm really excited to get back on the field and play the sport I love at a high level. I'm excited to meet my teammates and have fun with them. I also am really looking forward to studying business and politics there," Lake said. 
Zeller similarly elaborated on how joining a college lacrosse team is fulfilling his dreams. 
"I think that being part of a team in college would be a phenomenal experience as it instantly throws you together with a good group of people. I have always wanted to be part of a team in college, and now I'll be able to achieve that dream," Zeller said.
Before committing to college for lacrosse, these athletes went through similar processes of recruitment. 
"This process was definitely very stressful, and there were many times I contemplated if it was actually worth it. When things didn't work out with a particular school, it broke my heart. There were many times of uncertainty. But it was worth it and I am happy with the outcome," Lake said.
Kakridas shared her similar experience with the recruitment process. 
"From the beginning to the end, this process was challenging and stressful. This process of being recruited was very worth it," Kakridas said. "We had to email college coaches that we were interested in their school before every one of our tournaments, sending them our game schedules and jersey number."
Besides emailing schools, the journey to recruitment required lots of work and time. 
"Essentially every night I would do homework, and then send out tons of emails to different coaches hoping for a response," Zeller said. "After grinding my entire junior summer playing lacrosse six out of the seven days in the week, and sending countless emails, I was recruited in the end."
In addition to putting time and work into the recruitment process like Zeller, Lake elaborated on the educational aspect of choosing her college.
"I committed a lot of my time to lacrosse and this process. Every weekend of fall and summer, I was going to tournaments and clinics. I practiced and trained year-round. It also took a lot of time to communicate with the coaches and visiting schools," Lake said. "I had to look at schools that were in my academic range, while also considering that most likely the coach would give academic support. This allowed me to look into some more selective schools than I was capable of without lacrosse. But I had to acknowledge that my education was the most important to me and lacrosse came second."
Zeller's hard work and determination did not go unnoticed by his teammates. 
"I think Hayden's not only a great player but also our best leader who brings the team together in many ways, on and off the field. He's someone I can always talk to about lacrosse and life. I believe he's going to continue to do great things at Colorado College," sophomore Liam Falvey said. 
Similar to Falvey's statement, teammate and sophomore Tally Zeller noted Lake's and Kakrida's hard work. 
"Both Krissy and Amanda played on the varsity lacrosse team for four years and each season you could see their hard work paying off," Zeller said. "They constantly push themselves to be the best players and teammates they can be, always looking out for others on and off the field. Together they dominate the defense with fantastic communication, footwork and technical skills." 
As lacrosse plays a big role in these three athletes' lives, Kakridas shared the impact of lacrosse in her life on and off the field. 
"Going to college for lacrosse will help me as a person because it has always made the competitive side of me in life," Kakridas said. "As a player, it has helped having teammates hold you accountable and always having your back."