Students continue to work towards Meatless Mondays despite setbacks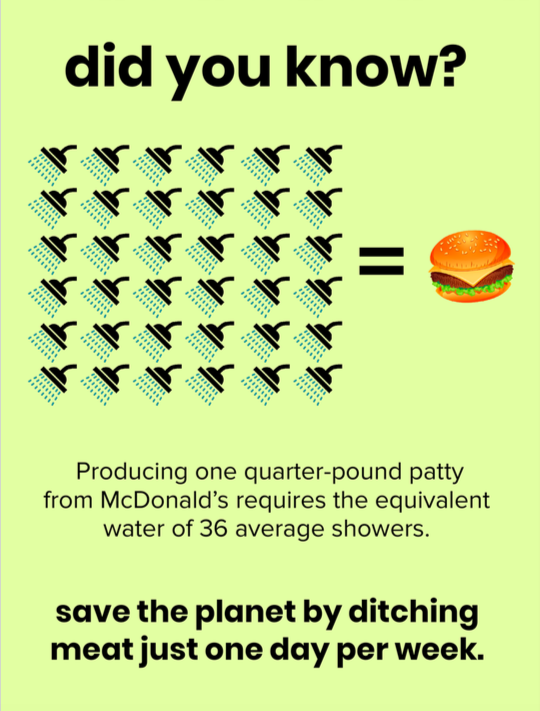 Casey Friedman and Adi Saligrama, Co-Editors-in-Chief
June 15, 2020
Several months after planning the Meatless Monday proposal, junior Jackie Liu's initiative was not approved to be implemented. Liu had presented her plans for the initiative prior to the pandemic, but has had to put her efforts on hold due to the COVID-19 pandemic. 
Despite the current closure of school, Liu plans to continue advocating for the initiative in the fall.
"I'm working with the school nutritionist Charlie Kotofu as well as Chef Feller, and we're going to try to do samples [of alternative protein options] in the fall and get the student body more acquainted with different possibilities and hopefully change the culture a little bit," Liu said. 
Before WHS closed for the pandemic, Liu was able to meet with and present her plans for Meatless Mondays to Superintendent Midge Connolly. These plans included expanding upon to current "Beefless Mondays" to include not offering any meat on Mondays in the Cafeteria.
"We ended up getting a meeting with [Connolly] and so I presented to her and we had discussions and answered any of her questions and concerns," Liu said. 
Liu explained that she had not had high expectations going into the meeting, so she was not deterred by Connolly's hesitancy with the initiative.
"She voiced that she had some concerns, which is very understandable coming from a pretty high up authority," Liu explained. 
While the meeting did exceed Liu's expectations, the initiative did not receive approval. Connolly is not the only person with concerns for the feasibility of the initiative. 
"Tess Sousa, the director of health services, is a little concerned about the financial risk of it because she doesn't believe the student population is on board," Liu said. "So she said that she would be on board if more students or a majority of the student population came to her and asked for it."
Sousa expanded on the financial aspect of Meatless Mondays.
"Because we are a business and we are dependent on revenue, we have not yet recovered from lower participation in school food due to regulation, open campus, food delivery, and students bringing food from home. In spite of that, [cafeteria manager] Wendy Howard said she believes that we are starting to do a much better job of meatless meals."
Despite these financial complications, the COVID-19 pandemic may change future meat purchases for WHS.
"We've heard from vendors that beef products may be less acceptable and accessible after we return, which might end up playing into our hands with regards to Beefless Mondays. This is due to virus outbreaks in beef processing plants that may have a long-term impact on beef production," Sousa said.
While this might provide support to Liu's campaign for the initiative, the future is very uncertain and discussions will not be able to resume until the fall. Despite these setbacks, Liu is still planning to continue to campaign for Meatless Mondays at WHS when she can.
"I really hope that this can become a reality," Liu said.