Track and field stars to compete in Ivy League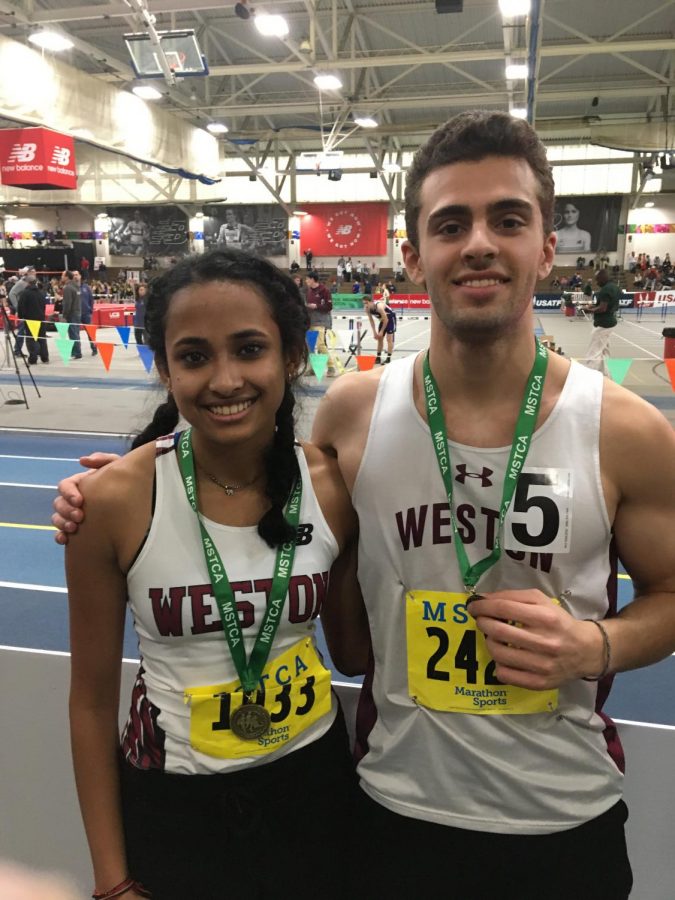 John Gigian, Staff Writer
June 15, 2020
After four years of team and personal accolades, two members of Weston track and field will continue their careers at Ivy League Universities. Starting with next spring's track season, senior Bharathi Subbiah will be doing long and triple jump at Yale, while fellow senior Peter Diebold will run mid-distance events at Harvard.
Diebold explained what excites him about beginning collegiate track and field. 
"Being able to train and compete on a team with other athletes all around my level or higher is what's most exciting to me," Diebold said. "Also, being in a place where everyone has similar ambitions means that there will be a mutual respect and understanding between the athletes, giving us all something in common." 
In a division one program, Subbiah explained how she feels she can better improve her abilities in competition. 
"I'm just excited to start training because in high school it is more general training and less time," Subbiah said. "In college, classes are more spread out and I can focus on training for just my event along with competing at a higher level."
Both expressed the time and effort they put in to get to where they are today. 
"Between band requirements, school work, and track, there was rarely a time to really slow down and take a breath," Diebold said. "Whether that was needing to do homework or pep band every Friday night, clearing my schedule of free periods junior year, or going months without eating sugar, it has been extremely challenging to keep up with it all."
All the work Subbiah and Diebold have done to earn a spot on collegiate track has been noticed. Math teacher and coach John Monz explained what the two have done over the course of their careers. 
"Both are consistent, hard workers and [they] never miss a practice, but both also do extra work on their own," Monz said. "Peter has done a great deal of weight training, stretching, and physical therapy on his own time. Both work out hard on their own during the fall, which is their off-season, to get ready for the track season. During the indoor season, they are willing to travel to whatever facilities we can get into at odd times to get their training done."
Neither was alone in achieving their goals. Subbiah explained how they had people helping them along the way. 
"Coach Monz and coach Montrose have both spent a lot of time with us making sure we get individual training and letting us know that we share the team's successes and failures," Subbiah said. 
Despite all the work they have put in and mentors they had to succeed in track and field, both understand it isn't the singular priority. Subbiah explained why she chose to attend Yale over other universities.
"I thought about Georgetown, Brown, Williams and Dartmouth," Subbiah said. "I chose Yale as they have great academics and they specialize in the field I wanted to major in, while still allowing me to compete against division one runners." 
As both Subbiah and Diebold prepare to leave Weston for the Ivy League, Monz expressed his confidence in the two succeeding in college.
"I anticipate both to be as successful as they wish to be," Monz said. "They know how to work hard and to compete successfully. I have full confidence in each of them."