Dr. Henry publishes new book 'Teaching While Black'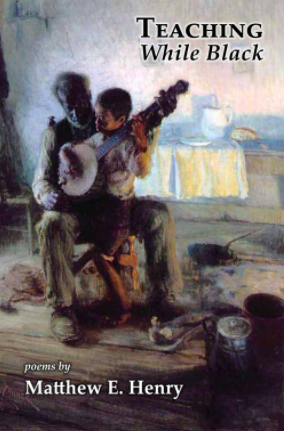 Alexandra Liang and Emilia Tutun, Website Co-editor-in-chief and Sports editor
June 18, 2020
English Teacher, Dr. Matthew Henry, recently published his first book called "Teaching While Black" on Tuesday, February 4. To celebrate Black History Month and Week at WHS, Henry held a poetry reading for faculty members and students to enjoy.
Although this is Henry's first book, he has published about 100 pieces of  poetry and short stories since 2003 in journals, magazines, anthologies, and online. Henry explained his experience in the writing process.
"Usually I've seen, heard, read, or otherwise experienced something that I want to record and process," Henry said. "Sometimes I am purposefully trying to make a statement about an event, person, or idea. But sometimes I just think something is profound and is a story to be retold."
Henry's favorite quote from his book addresses racial injustice in the world today.
 "…'only 300?': a student's take on Harriet Tubman' ends saying, '…i hear you. / now shut… up, and sit down.' At this moment in time, that is my favorite line in the book because it succinctly addresses my feelings regarding the racist ignorance pouring out of the mouths and online presence of too many people in this country right now," Henry wrote. 
From the reader's perspective, English teacher Henry Moon elaborated on how the book enhanced his outlook on issues at WHS. 
"'Teaching While Black' brings many issues to light that many of us have always known about but never articulated," Moon said. "In many ways, it affirms what I have observed and experienced as a teacher of color teaching in a predominantly Caucasian school."
In addition to Moon, junior Zoe Fernandez commented on how the book and Henry influenced her life.
"Through both his teaching and writing, Dr. Henry has opened many eyes to the many perspectives of reality. As a student, it was really refreshing to come into his class each day and not know what to expect. There's always something more to learn from Dr. Henry," Fernandez said. 
Moon and Fernandez's positive responses to Henry's work is an example of one of Henry's goals for the book. 
"If someone changes how they treat other people as a result of something they read in there, then I'm happy. If they simply look at the world differently in some way, sweet," Henry said. "I would like people to read it and be impacted by it, preferably for good."
Moon commented on how Henry's work not only was a good read, but also how it addressed important issues regarding race.
"I enjoyed his book quite a bit. His poems were so funny and powerful and provocative that it would be nearly impossible not to engage in discussion after reading them," Moon stated. "That said, issues of race are notoriously difficult topics to discuss, and not everyone is willing to engage in dialogue about them, let alone reach some kind of communal understanding. As a professional, I've always been incredibly impressed by anyone who can do something as momentous as publishing a volume of poetry while teaching full time."