Students share their experience with the hybrid and RLA models.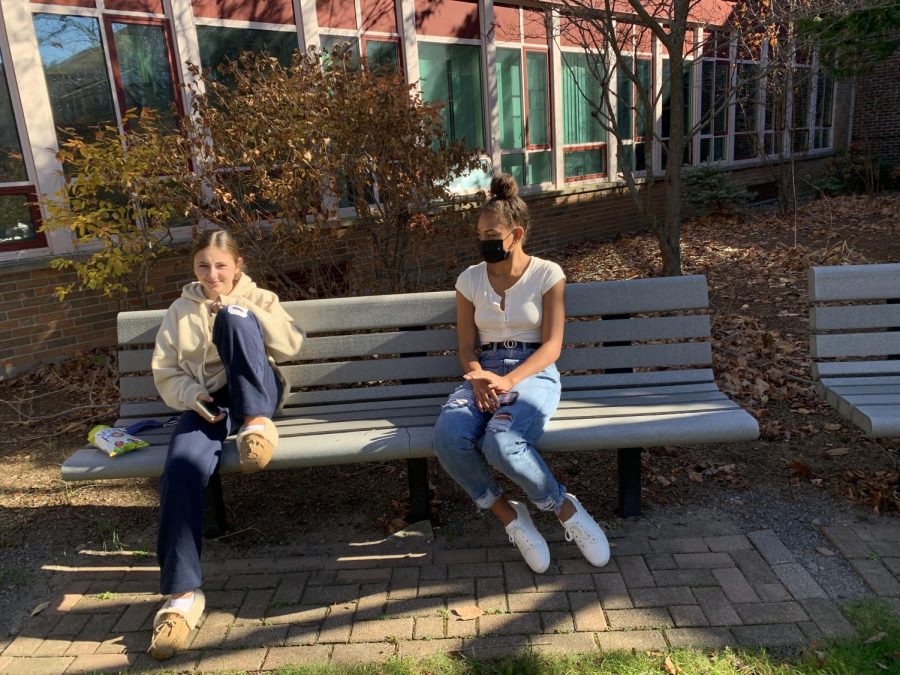 Emilia Tutun, Sports Editor
November 23, 2020
Due to the COVID-19 pandemic, WHS is experiencing a new way of teaching and learning. At WHS, students had a choice between participating in the hybrid model, which incorporates both in-person and remote learning, or in the RLA program, which is fully remote. As a result, students and teachers alike are responding in different ways to these models. 
English teacher Dr. Matthew Henry expressed his difficulties with the hybrid model.
"The hybrid model is the most difficult form of teaching I have ever encountered in two decades on the job. But I will still advocate for it if that is what is best for the health and safety of my kids," Henry said. "The hybrid model is not ideal, but neither is being in a pandemic. I believe teachers and students are making the best they can out of a horrible personal and academic situation."
Although the hybrid model is keeping the student body safe, students also face problems with dividing their time between school and home.
"With the hybrid schedule I feel like I have less of a connection with my teachers and this is making it harder to understand the heavy curriculum," senior Chloe Ramos said.
Similarly, junior Elissa Carillo in the RLA program conveyed the hardest part about learning remotely is the lack of human contact. 
"I am very outgoing and build powerful connections with my teachers and classmates based on the classes I am taking, and from classes, I have taken before," Carillo emphasized. "Not socializing with a wide variety of people has been the toughest part of RLA, because I can feel excluded and really miss everyone!"
Students are not the only ones feeling a disconnect with their teachers. Teachers are also experiencing a disconnect with their students because of the decreased amount of time spent in the classroom. 
"For me, the biggest drawback of remote teaching is the lack of human contact. Discussions of literature and big ideas are stymied when people aren't in the same room, sitting in a circle or small groups, hearing a laugh or a gasp, or seeing the look on someone else's face," Henry said. "Instead, [there are] muted mics, disabled videos, or Darth Vader-like lagging voices due to a bad connection." 
Besides negatively impacting the connections built by students and teachers in school, freshman Annie Dong further expressed how distance learning is not effective.
"I wish I was getting the real high school experiences because I wanted to meet new people," Dong said. "Distance learning is not effective because as many people do not learn well on their own. I am less productive at home because there are so many distractions around me at all times." 
Similar to Dong, Gaw described her main issues with learning from home.
"I would rather be in school because I would learn better. For me, being in school would be more effective because I get sidetracked easily on Zoom and know from experience that I learn better in the classroom," Gaw said. "[Also], I think we are doing school for a greater amount of time than the kids in the hybrid model. For some of my classes, we learn topics and move on faster than kids in school, which is what I have heard from my friends." 
Unlike Dong and Gaw, junior Alexander Sakkas explained why he enjoys the hybrid model. 
"Although the teachers move at different paces for each class making it difficult for me to learn, I still really like the hybrid model. [Furthermore], I like school (remote and in-person) because it is a lot more comfortable to do my work at home than going to school. Surprisingly, I am more productive at home because I have a lot of energy to do homework due to the fact that I don't have to go to school early in the morning," Sakkas said. "Obviously I want to go back to full and in-person schooling, but only when it is 100% safe to do so." 
Despite the critiques of each model, students emphasized how fortunate the WHS is to have two safe options for schooling.  
"Even though I don't like the hybrid model because it negatively impacts how I learn, I think it is better than learning only from home," Dong said. "The WHS is really lucky to have the hybrid model especially because a lot of the schools around us are fully remote, and the RLA program for students who don't feel comfortable coming into school."