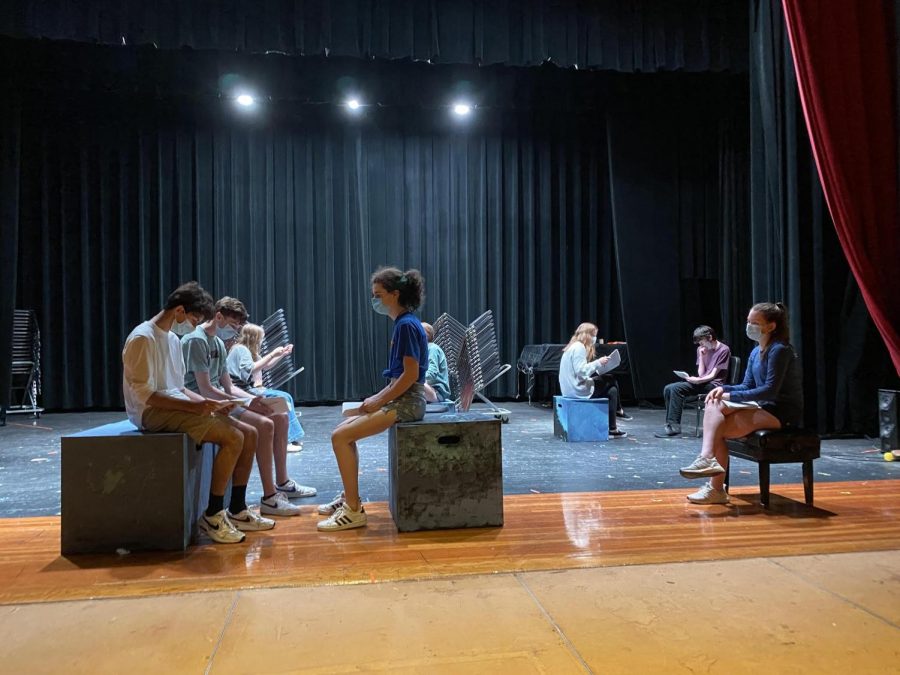 Anne Isaacs
   Weston High School's Theatre Company (T. Co.) will bring the fall play "The 39 Steps" to the stage, premiering on Thursday November 18 and running through Saturday November 20, with all performances starting at 7pm. "The 39 Steps" is a comedic mystery based on Alfred Hitcock's 1935 film. 
   The play as performed on Broadway was made up of a cast of only four people, all playing multiple roles, but the T. Co. cast will include a much larger ensemble. 
   "'The 39 Steps,' has ensemble members who are basically like a chorus, so they don't sing, but a chorus that's kind of on stage to set the mood for the play even if they're not in the scene itself,
drama director Anne Isaacs said.   
Co. has had to adapt to a new form of normalcy due to Covid, forcing the Company to be ready to make adjustments and accommodations to ensure everyone stays safe and healthy. Last year involved even more restrictions as the plays were all performed and presented online, but this year that has changed.
  "Thankfully, we are back in person this year. It has been incredibly refreshing to be back to in-person rehearsals, and it has brought our community together in a very powerful way," Isaacs said.
   For Isaacs, this year's experience working on the show is already far superior to the limitations T. Co. experienced last year.
   "What was really hard for us last year is we would go to school hybrid, so we'd go to school online all day, and then we couldn't have in person rehearsals unless they were outside. So much about doing theatre is about connecting with people. It's about experiencing a moment in real time with other people, so that was tough," Isaacs said.  
   Since all the Covid guidelines and recommendations are still changing this year, there are some elements of the play that may ultimately change. 
  "The plays should be almost normal, but a lot is TBD due to the fact that Covid is still very much a thing, and many guidelines change a lot, but for now, things are close to being back to normal," junior Sofia Desio said.
   After a year full of performances being streamed via Zoom, Isaacs is hopeful that the live, in-person audiences will be able to return once again.
   "While we were able to rehearse the spring musical in person last year, we were unable to have live audiences… I know all the students are really looking forward to the moment when we open the play in front of a live audience for the first time in many months," Isaacs said. 
Co is working on smoothing over some of the challenges Covid presents in order for the fall play to run smoothly. Masks are one of the biggest unknowns.   
   "As of right now we do not know what our mask guidelines are going to be for when we perform, so we are having a lot of discussions about how we may have to incorporate masks into our show," Desio said. 
   Rather than fighting the masks, T. Co. is thinking of creative ways to incorporate them into the performances.
   "My vision is that we will actually use masks to help tell the story. So if it's a more comedic scene, we use more silly facial expressions on the masks. Or if it's more romantic, we have pink ones so we're making comedy out of it. And then we would have the characters that are really just talking in the scene maybe be unmasked," Isaacs said. 
Co. is already starting to look beyond the fall play. Although the winter play is still being determined, it will feature a one-act play, and the spring musical will be Chicago.
   "We'll probably take the winter play to a state drama festival, as is traditional for WHS T.Co. Performances will be in February and March," Isaacs said.