Look familiar?
Hang on for a minute...we're trying to find some more stories you might like.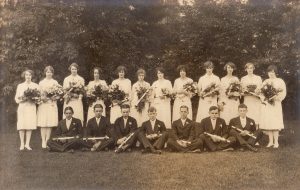 Look familiar? What similarities and differences can you find between this 1927 image and graduation today?
PHOTO/ Courtesy of Weston Historical Society 
What's the same?
The girls wear white dresses
Graduation takes place on the town green
Girls receive flowers from friends and family
Boys wear black pants
What's different?
Women's fashion in the 1920's had long skirts
The popular hairstyle for women in the 1920's was a short bob
Boys wear white suit jackets today
Notice anything else? Leave it in the comment section below!