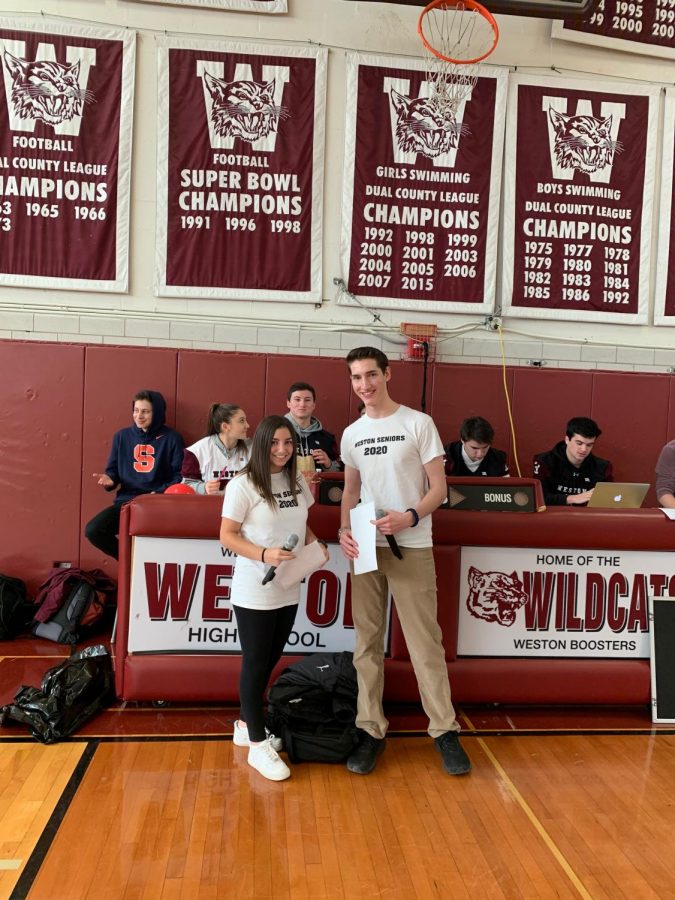 New co-emcees work to build stronger school community
This year, the new co-emcees are taking on the difficult task of building a stronger school community. Although seniors Ezra Gordon and Becca Abrams are new to working with each other, they already are taking steps to reduce student stress and promote school spirit. 
"My main goal is to incorporate a broader group of people into the assemblies so that we can have many more people involved," Gordon said. 
The assemblies are particularly important to the school, as they are run by students and for the students.
"I think having student-run school events is much more effective than teacher-led events, so it is a great event for everyone," Abrams said. 
A strength of this partnership is the differing personalities of the two co-emcees. 
"The assemblies are a nice break from all the stress, and Ezra and Becca are the perfect pair for the job. I like their jokes and I think that both of them have different personalities. They will do a good job making sure everyone has a good time," senior Kevin Ma said.
Due to there being no student activities director this year, the co-emcees have worked even harder for the approvals to run their assemblies. 
"It's been difficult to get everything ready and approved this year, but we have been working with administration to get everything straightened out," Abrams said.
Administrative assistant Katie DeFoe highlighted Gordon and Abrams' admirable qualities. 
"I think they are doing a great job with all of the obstacles. My favorite thing about Ezra is that he is always ready to lend a helping hand and my favorite thing about Becca is her energy!" DeFoe said. 
Aside from the difficulties that the co-emcees have experienced, Gordon commented on what he hopes the assemblies provide for the students.
"The assemblies definitely promote school spirit and are a nice break from the long school days," Gordon said. "They are meant to be fun and entertaining and you might laugh at your friends or yourself a little bit, but it's just about feeling like there is like a school community that you're a part of." 
Many students, like junior Thomas Ladocsi, agreed that the challenges these co-emcees face are difficult.
"It's a difficult job to keep every student and teacher entertained, so I am always really impressed by how the emcees handle everything. I think that they are going to do a great job this year," Ladocsi said. 
After the first assembly of the year, teachers and students reflected on the work of Gordon and Abrams.
"I thought the assembly was really good. I am always a little concerned for the first assembly, but it was organized, the time was managed well, it was fun, and did not cross any inappropriate lines," Spanish teacher Cortland Mathers said.
In particular, the Halloween assembly featured the favorite Halloween parade.
"The parade was festive as always and the co-emcees are very lively. In addition, the costume awards were really fun," sophomore Eunice Lee said.
Gordon added that they are already in the process of planning for the upcoming assemblies and plan to implement new games in the future. 
"We have already gotten several English and math teachers to agree to play a faculty basketball game and that will be fun. We also have some other ideas for intersport competitions," Gordon said.
Despite the issues that have come up this year, students continue to look forward to future assemblies.
"Every year, the school spirit is always high during the assemblies, and it's really fun to watch all of the games and see all the talent during the performances. This year is no different and I am excited to see what Ezra and Becca can do," junior Daniel Atefi said.