New School Resource Officers excited to get to know students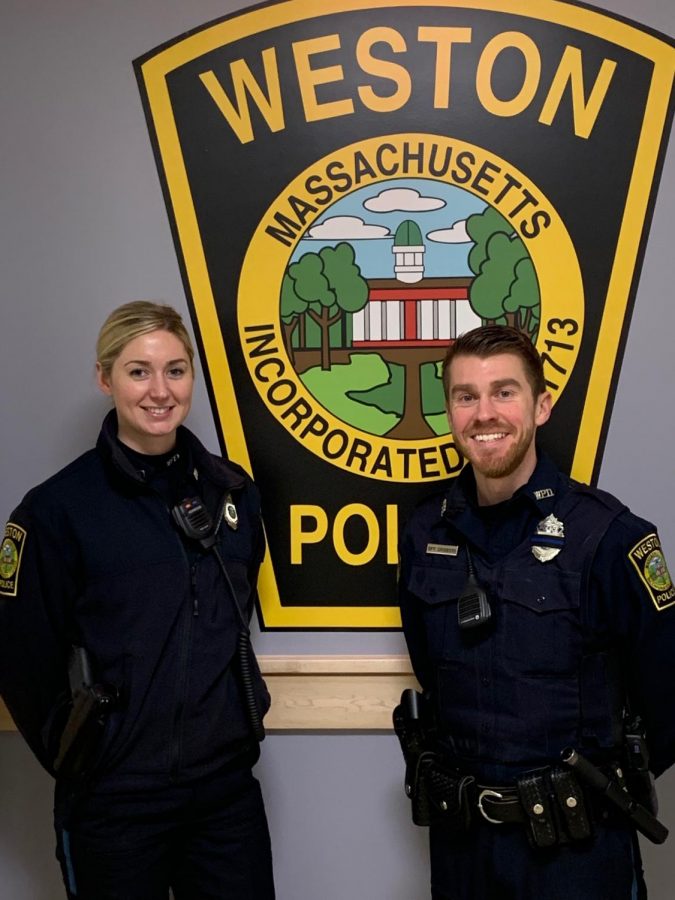 Ava Dreyer, Staff writer
February 24, 2020
On January 14, the Weston Police Department announced that two new School Resource Officers will be working with the Weston Public Schools. Officer Lindsey Arsenault is working with Country, Woodland, and Field schools, and Officer Andrew Gribbons is working with the middle and high schools. 
"The main thing [of being a School Resource Officer] is building relationships with the kids and teachers," Gribbons said. "We are like the middle man between the police department and the schools." 
A big goal the officers have is to make kids feel more comfortable around policemen. 
"In the short time that I have been in the schools, I have seen a positive shift in the way students react to seeing me," Arsenault said. "There is less fear that something is 'wrong' when they see a police officer."
The students have seen an improvement since the addition of the School Resource Officers.
"They make me feel safe at school which makes for a better learning environment," freshman Julia Hanson said. 
Being a School Resource Officer is much different than the traditional police work, especially for Gribbons and Arsenault who both used to be on patrol. 
"I was out on the street for 7 years in the car by myself responding to calls and looking for things. Whereas in the schools, I'm trying to meet people," Gribbons explained. 
Although the position of School Resource Officer is not a full-time job for them, Arsenault and Gribbons still really like their role in the schools. 
"I enjoy talking with students, especially at lunch or recess when there is less structure and we can talk about issues that are important to them," Arsenault said. 
Gribbons also commented on his enjoyment in this new role.
"My favorite part has been getting back in the schools and seeing the kids. I used to be a teacher and coach, so it's fun to be back in the environment," Gribbons said.
Students were able to ask questions to further get to know the officers.
"Officer Gribbons came into our health class last quarter. We got to ask any questions we were curious about and learned a lot," Hanson said. "He was very nice to the students and answered all our questions honestly."  
Both officers are continuing their roles for the rest of the school year, and have some objectives they want to accomplish. 
"I hope that throughout the remainder of the school year, my role as a School Resource Officer continues to have a positive impact on students," Arsenault said.