WHS Nordic Ski Team growing in its second season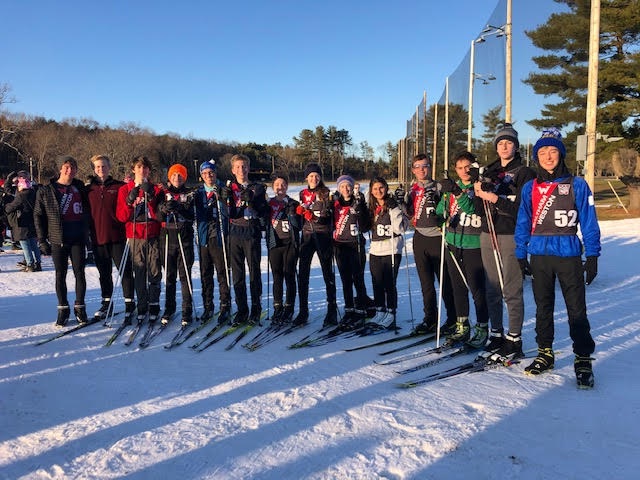 Casey Friedman, Feature editor
February 24, 2020
As the school day ends and athletes head off to their various practices and games, the Nordic Ski Team drives over to the Leo J. Martin golf course in Weston for practice. This is only the team's second season at WHS.
"A couple of years ago we had a handful of students who came to me looking to start a nordic program and we talked about it and tried to get more information as to whether we could sustain it or not," athletic director Michael McGrath said. "We did some research and saw we had a bunch of interest from the younger grades and could keep this program going."
In the beginning, the team was meant to be modeled after the preexisting Alpine Ski Team at WHS.
"We decided we were going to try and emulate the downhill skiing program with practices twice a week and then a race, which has been very successful in the past," McGrath said.
Despite being a newer sport at WHS, the team has gained several new athletes.
"We have so many new skiers this year who are picking up the sport so effortlessly," junior Zoe Fernandez said. "This year we've joined with Waltham and have nearly doubled in size."
This increased size has brought a sense of diversity and individuality for skiers on the team.
"It's a supportive environment where everyone encourages each other to do their best, while also allowing you to choose your own level of intensity," Fernandez said.
An aspect of the team's spirit has also been the energy that their volunteer coach Nicole Freedman brings.
"Having a good coach has been really important to us sustaining the program and she has been outstanding," McGrath said. "She is a very positive person. She has really been a great coach and motivator for those kids."
While members find the team itself to be welcoming and supportive, many find the sport to be very challenging.
"This sport is generally very difficult and going uphill is very strenuous and takes a lot of energy," junior Zach Meyers said. "Learning the correct form is also very difficult because there's so many different aspects to it."
Cross-country skiing can also be challenging in that it has many different techniques and variations. 
"A lot of people underestimate the technicality of Nordic skiing, there are three different poling techniques that we use regularly in races and practices, and even more as you increase in level," Fernandez said. 
Being a sport that practices outside in the winter has also created some challenges for the team.
"Weather is always a factor whether it's alpine skiing or nordic skiing. Fortunately, Leo J. Martin produces their own snow and for the most part, we always have a place to go," McGrath said.
Aside from this potential setback, the team has high hopes for the future and the rest of the season.
"My hope going forward is to continue expanding and popularizing the team, while maintaining the positive energy and close-knit environment that we have now," Fernandez said.