WHS welcomes new principal Paul Peri for 2020-2021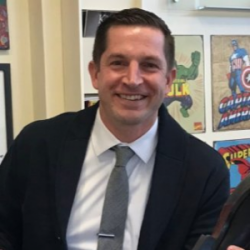 Paul Peri, who has worked as the principal at Franklin High School for many years, was hired as the next principal at WHS starting on July 1. Peri plans to develop meaningful relationships with students, teachers and staff, as well as focusing on the improvement of school spirit and helping Weston become a stronger community. 
With the excitement of students and teachers, Peri also expressed enthusiasm for his future at WHS.
"I am most looking forward to developing new and meaningful relationships with students, staff and the community. Every day is a new opportunity to learn, laugh, grow and connect! I'm eagerly anticipating getting started in Weston when things get to our new normal. I will give Weston High School everything I have!" Peri said. 
After the current principal Anthony Parker announced his plans to leave WHS last September, the process of finding new candidates for the position began Monday, December 9. After extensive interviewing with teachers, administrators, parents and student leaders, Peri was selected to be the next WHS principal.
"He seemed very easy to talk to and very approachable. He immediately made all of the students feel comfortable with him, and he was excited to talk with us and answer the questions we had for him," junior Shraddha Lulla, who met with Peri when he visited WHS, stated. 
Lulla also expressed some of the objectives that she hopes Peri addresses. 
"It seems like in Mr. Peri's past jobs, he has done a lot to increase school spirit, which is something that WHS desperately needs," Lulla noted. "I hope he addresses school spirit as well as the issues of stress and mental health in high school because those are very prevalent issues. A lot of students are struggling with the stress and pressure of high school, and I think he would be able to help."
In addition to student stress, English teacher Michael Kelley hopes Peri will also address issues of teacher stress and fatigue.
"We have a school system in which teachers work hard. I hope Mr. Peri can be a bridge between groups, to help find common ground, and help hard-working students, teachers and community members feel as if they're pulling on the same rope," Kelley said.  
Peri himself talked about his first impressions of WHS.
"Some of the special things about Weston are the smaller community aspect and feeling the school has, the special staff and people I met district-wide, and the truly incredible students," Peri said. "When I first walked into the building, I was struck by how welcoming everyone was, how impressive the thoughts and questions I received were, and I loved the warmth of the building." 
Science department head Stephen Ribisi talked about Peri's attitude towards working with the WHS community. 
 "He had done his research before the interview, so he understood our current school culture and the challenges that we face as a community. Mr. Peri seemed very excited about the prospect of being principal here," Ribisi noted. 
As one of the student representatives who was present during the hiring process, sophomore and student council representative Dylan Patel commented on one of many aspects that made Peri stand out.
"One thing he talked about that really stuck with me was how even in a school like Franklin High with over a thousand students, he knew everyone by face and almost all of them personally," Patel said.
Ribisi further elaborated on a question that was asked of Peri during the hiring process. 
"I asked a question of Mr. Peri about how we could help all students to feel welcome at WHS," Ribisi said. "Mr. Peri's answer really indicated to me that he is aware that high school can be a difficult time for some kids, and that he wants to make sure that the culture at WHS is as welcoming as possible to all." 
Peri explained one of the best lessons he has learned in his life and how he plans to implement it in his work at WHS. 
 "'Always come from a place of curiosity, and not from a place of judgment.' I'm looking to hit the ground listening and hope to work with Weston High School to resolve and improve what we identify as areas of opportunity," Peri said.