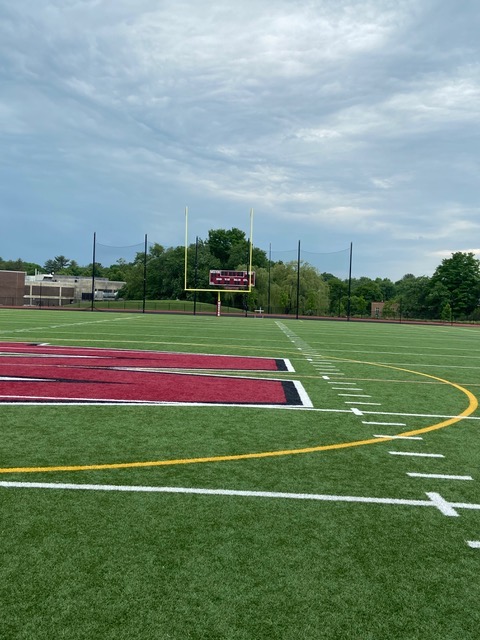 John Gigian
After years of preparation from student athletes, the MIAA announced the cancelation of high school sports in Massachusetts on April 24 due to the COVID-19 pandemic. The decision forced many student athletes to cope with the reality of missing their spring seasons.
"We had been expecting it for awhile, but when I finally saw that notification on my phone that Governor Baker had called off school for the rest of the year, my heart sank," senior midfielder for the lacrosse team Dylan Rosen said. "I had poured my heart into preparation for what promised to be an incredible senior season and a chance at the state title, [and now it is] all gone."
Despite knowing this was likely coming for some time, the official announcement was still difficult for student athletes to comprehend. 
"It definitely did not catch me by surprise. It is one of those things where you expect it to get cancelled, but when it actually gets cancelled, you're still in shock," senior captain and first baseman for the baseball team Nick Ullian said. "We are such a close team, especially the seniors, so not being able to give it one final run together is heartbreaking."
Part of the disappointment comes from the goals the team will not get to attempt, Rosen explained the aspirations the lacrosse team had for their season.
"After such a heartbreaking loss in the semis last year and most of the same team returning, we had a legitimate shot at winning it all and it's sad that we never got the chance to show what we could do," Rosen said.
Missing the opportunity to compete won't allow underclassmen to show off their athletic abilities to potential college scouts. 
"It's pretty difficult because the entire winter [track] season for me was basically in preparation for outdoor [track]. While I was in contact with a few coaches, I was really waiting until outdoor when I was hoping to achieve my best marks before I reached out to some of the better schools," junior Nick Dahl who does shot put, long jump and discus said. "Obviously with the season cancelled, I only have my indoor marks for coaches to gauge me off of, and so I don't think that coaches will be able to see my full potential as an athlete."
Many athletes who will be returning to their sport next year are doing their best to improve during this time.
"We've been doing virtual workouts together every afternoon and Zooming while erging," junior member of the crew team Caroline Schuckel said. "Erging can also get very lonely, so it's nice to Zoom with my teammates while doing it."
As juniors miss out on their season and potential scholarships, seniors will be losing their final season of high school athletics. 
"We had all grown up together on the baseball field and have become close along the way," Ullian said. "I was really looking forward to having all of our years of training accumulate into one final run together. Not being able to share that with the other seniors, and the rest of the team, is what makes this so difficult to accept."
With no more games to play, senior athletes were able to reflect on their years with their teams. Rosen explained what he will take away from Weston lacrosse.
"I'll always remember waking up early for lifts, that special Mel's Breakfast right before the season, celebrating after winning the DCL last year, and Coach Wilcon saying 'how bout them cats' after an important win," Rosen said. "I'm going to miss these moments with the team. Lacrosse is a special sport and my experiences on the field and most importantly off it I will never forget."
Losing their final seasons made the senior athletes recognize the opportunity they had been given to participate in high school athletics. 
"I think the most obvious takeaway is to not take anything for granted and to live in the moment," Ullian said. "It's so important to play each game like it is your last and to savor every moment on the field. This way, when you head into the dugout after the final out, regardless of what is on the scoreboard, you know you gave 100% and make sure you will have no regrets."