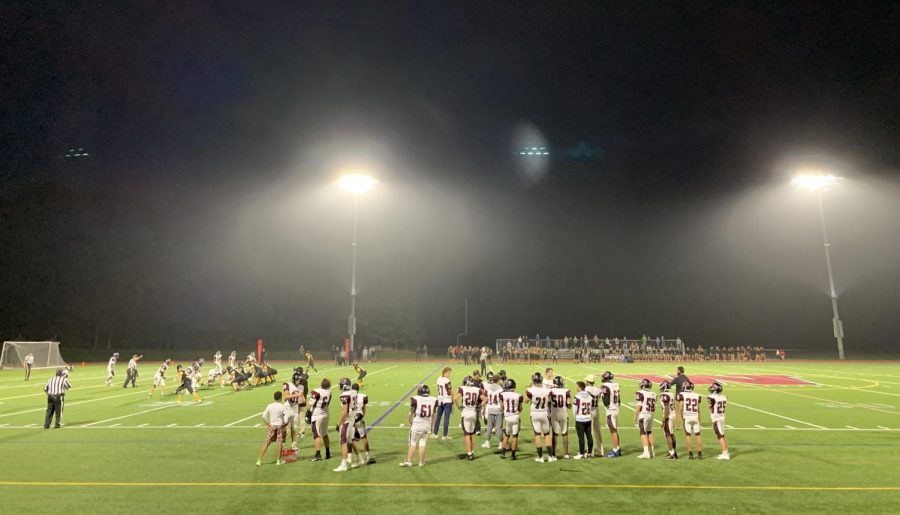 Molly Ross
  On many Friday nights during the fall, Weston High School students gather at Proctor to cheer on their football team and enjoy live music provided by the pep band. As all the students have started to cheer on their team for the first few games this year, many are adapting to what this year's games are like given the changes to Covid precautions.
   "Right now there are limited Covid protocols compared to last fall. No face masks are required on any of the student-athletes, coaches or spectators," athletic director Mike McGrath said. "There are no sport modifications to the football team or the band because they will be performing outside."
   Student athletes of all fall sports have some worries about their seasons being affected because of Covid exposure, but McGrath doesn't share that worry.  
   "I do not think there will be any seasons cut short due to Covid," McGrath said. "The Weston Board of Health have a great handle on contract tracing and the proper steps to ensure our student-athletes, coaches and spectators are safe when participating in athletics. Our student-athletes continue to do what needs to be 
done to keep their seasons running."
   A few adjustments have been made with the pep band that were different from when they last played at one of the football games. 
   "This year, we're only playing the first half of the football game, which is great because we can now enjoy the rest of the game. Previously, we played during the full game except the third quarter," senior co-pep band leader Zara Nip said. "Additionally, we typically come in every year with at least a majority of the band with some experience playing during the season, but this year, we've only got the senior class [having played at a live game before]." 
   Along with the band, the football team has had to make a few adjustments for the season, but they are unrelated to Covid. 
   "One of the biggest differences is the change in coaching staff with Coach Wilcon becoming the new head coach," senior football captain Liam Falvey said. "Coach Wilcon is an exceptional coach with many years of coaching experience in college along with high school."
   The team has definitely been altered over the past few years considering the change in coaches and Covid protocols, but Falvey feels that they are sure to hurdle these challenges as they have done in previous years. 
   "The size of the team definitely has changed since my freshman year by becoming a little smaller each subsequent year. The senior class this year has been slimmed down due to transfers as well as people deciding to not play due to injuries," Falvey said. "While the team has had a rough start, I think that we will turn around the current losing streak as players adjust to the new playbook and as more begin to come back from injuries." 
  McGrath also pointed out that some aspects of Friday night games that weren't able to happen last year are back, while at least one tradition is still not in practice. 
   "This fall we will have our concession building open for all home football games. The one change is that at the conclusion of the game there are no handshakes in any sport this fall," McGrath said.
   If everything goes according to plan and everyone is able to stay safe and healthy, both the students and spectators will be able to continue other fall traditions on Thanksgiving. 
   "The Thanksgiving Day football game is scheduled to be played at 10am on Thursday, November 25 at Wayland High School. This will be the eighty-fifth meeting between the two schools," McGrath said. "Additionally, we expect to play the Powder Puff game at Weston on the Wednesday before Thanksgiving (11/24) at 1pm on Proctor Field. Both are exciting events that bring the school and community together."