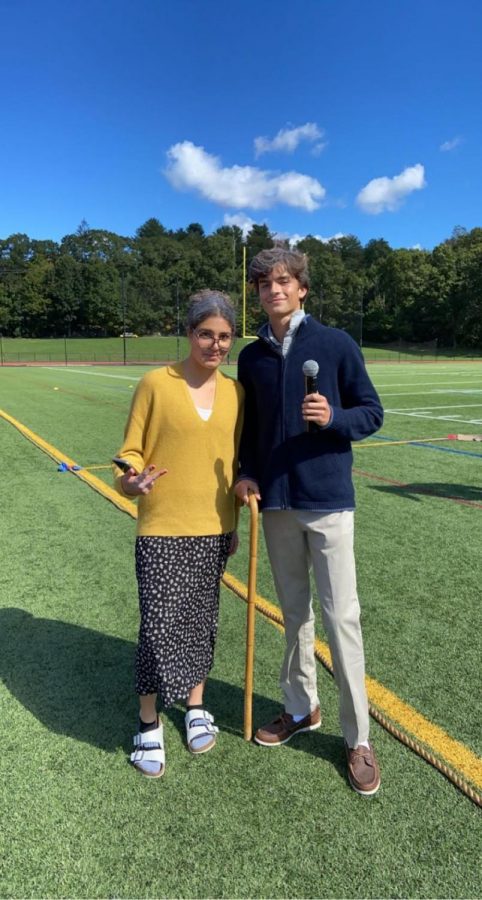 Kendal Parker
   Each year, students of Weston High School campaign in the hopes of being elected for student government and student council to represent their grade or school. This year's elections for most positions of student government and council were held on September 23 and September 30 respectively, though elections for student council co-emcees and co-presidents were held last spring.
   According to student council advisor and home economics teacher Eunice Feller, holding the elections through an online format increased the participation of students voting compared to previous years, which were held in-person. In addition to more students voting, the online format caused the amount of students applying for leadership positions to increase. 
   "I think having the students record videos is a lot easier than doing it live, in-person, in front of 100 of your peers. It's given an opportunity to a lot of students to run that may not have run before. I think we're getting a better cross section of the different personalities," Feller said. 
   There are certain rules and guidelines for applying for these positions, which include attending a mandatory elections meeting, submitting a picture of themselves, creating a 50-word elevator pitch, presenting a speech, and getting at least 20 students to sign their nomination form. More specifically, there are campaign rules that students must abide by to run for student government or council.
   "They are allowed to put up posters that need to be approved by the Principal, Assistant Principal, or myself. They're allowed to use social media but they just need to be very careful that what they use is completely 
100 percent appropriate," student government advisor and special education teacher Cynthia Brisky said. Students utilize the various resources available to them to campaign.
   "I used social media as a big part of my campaign, primarily posting stories on Instagram. I also made sure to reach out to people personally and reminded them to vote!" Junior vice president Shreya Mehta said. 
   There are various grade wide leadership roles available in student government and school wide positions for student council. Each of these roles has a specific purpose, as do the two different groups.
   "The student government's responsibilities are to focus on school events for their class. They usually plan a formal. They are required to plan a service project for the class. They often plan some other fundraising activities, like car washes," Brisky said. 
   In contrast, "Student council serves the whole community, all of the high school," Feller said. 
   Elected students hope to start introducing new ideas to improve WHS.
"I hope to implement more community service and grade bonding activities in the future, in order to strengthen class spirit and school spirit as a whole," Mehta said.
   Further, the pandemic has inspired students to create a more normal school environment this year.
   "I am motivated to give our class the senior year we deserve after such a hard year last year. I feel that our class is very special so I feel very lucky to be able to represent all of us," senior and current president Nyle Linnard said.
   There are specific goals for the future of student government and council to keep improving them. 
   "I think the vision is to try to continue to build up the community, to get more and more students involved in the activities the classes and school have. The goal would be to be as inclusive as possible," Brisky said. 
    Sophomore and last year's freshman vice president Caitlin Lacey agrees with Brisky on this goal and elaborated on specific steps that could be taken to accomplish it. 
   "Something I really focus on is inclusivity. For example, making 
sure there are ramps for public events for handicapped people or providing many different activities that play to all types of strengths," Lacey said. 
   Additionally, Linnard explained how encouraging students were during the election process.
   "I felt good throughout the process. Everyone running was very respectful and had great ideas," Linnard said.
   Lacey also added how the results of the elections do not impact the worthwhile experience of running for a position. 
   "I would like to add that running is definitely worth it, even if you lose. I don't know if everything happens for a reason, but after losing, I do feel very motivated to keep trying and I would like to help the school in any way I can." 
   Kim also agrees with Lacey's viewpoint about the value of applying for a position.
   "The whole election process was very exciting for me, as I hadn't really gone for any legitimate leadership positions before. I was definitely stepping out of my comfort zone, and I admit I felt a bit nervous at times. Overall, though, the whole process was extremely fun and beneficial, and I would definitely recommend it to anyone thinking of trying next year," Kim said. 
   The main goals of student leadership roles are to help improve the school and community. 
   "Ultimately, it's about service, it's about being a good human, and raising school spirit and community spirit. I always say, it's a job. It's a job that takes over everything else. Serve the community, serve your peers, work hard, and do enough that you feel that you left some legacy," Feller said.