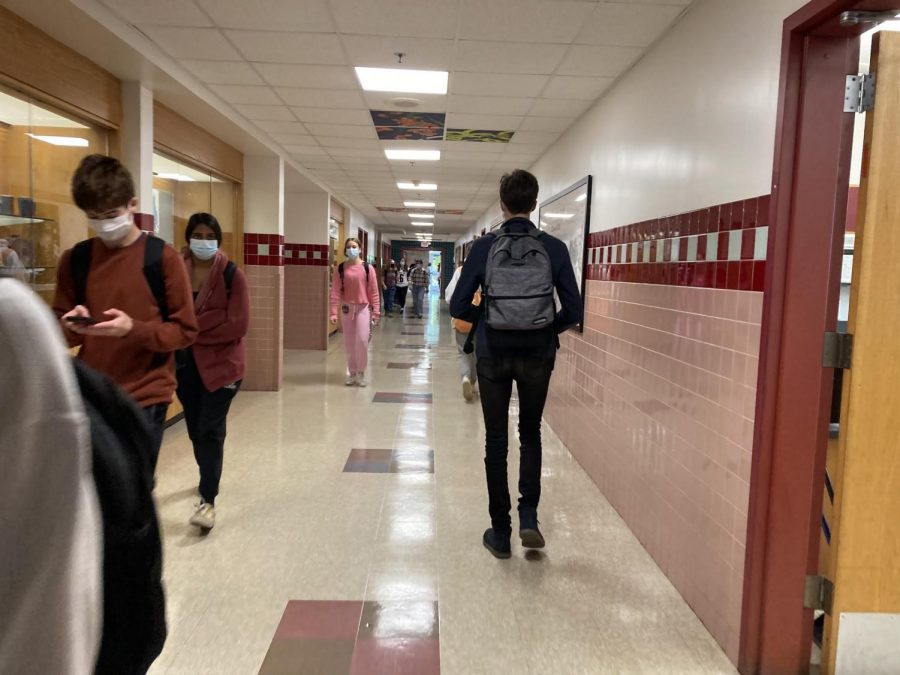 Emilia Tutun
After enduring an uncertain year consisting of hybrid schedules and remote learning in 2020-21, Weston High School has made both a safe and healthy return this 2021-22 school year. This year's smooth re-entry is in part due to the WHS administration and staff applying what they learned from coping with Covid last year. 
   "We have all learned and grown and been pushed in unprecedented ways over the past year and a half. Many of the mitigation measures we successfully implemented last school year remained in place at the beginning of this school year, including masking, spacing, cohorting, and testing," director of health services and Field School nurse Jamy Gaynor said. "All of these strategies collectively work to maintain the safety of our students and staff."
   Over the summer, WHS adjusted the pre-existing, implemented Covid rules to meet the new and less restrictive State guidelines. 
   "We have removed the arrows from the floor, can be maskless outside, have done a much better job with lunch, athletics are up and running, there is no remote learning, so we are having full days at school, and all faculty/staff are back on campus. [However], it has actually been dif
ficult because there is so much gray area," Principal Paul Peri said. "Last year we had really clear guidelines, mandates, and expectations, but this year it is a bit more confusing."
   Regardless of the "gray area," Peri holds high hopes for WHS's future.
   "The true hope is that we will return to completely normal school, [which includes] no masks and restrictions. This will enable us to have big events, such as large group assemblies and dances, [as well as] a normal classroom setting. For example, we can have close partner work, and people can actually turn and talk to each other," Peri said. 
   While the ideal future includes the elimination of Covid protocols and limitations, this dream may not be attainable any time soon. 
   "I am concerned that this may not happen as soon as I want it to," Peri states. "[On]
October 6 the board of health is meeting to examine the numbers. Despite our school being almost completely vaccinated, a recent spike in the numbers leads me to believe we won't be taking our masks off as soon as we hoped."
   To attain this ideal future and help maintain/decrease the Covid numbers at WHS, or even if this future is achieved, Gaynor had a few ideas to ensure and maintain 
the safety of our school and community. 
   "I ask that [everyone] continues to be mindful in all of their interactions both inside and outside of school. [So], when participating in activities outside of school I ask that everyone maintains a vigilant stance, to ensure continued safety moving forward, [and] to remember those who are not yet able to be vaccinated in the lower grades, including siblings and neighbors," Gaynor said. "I [also] ask [all] to participate in and encourage weekly testing."
   In discussing weekly testing, Gaynor elaborated on this development which WHS participated in last year, but so far, have not had to partake in this year. Individual PCR testing with Project Beacon will be conducted until the State's CICI program is up and running in Weston. 
   "Participation in weekly testing will provide data that can be used to inform our mitigation strategies, including masking, going forward," Gaynor explained. "A testing area will be ready for students to drop in at the covered area between the MS and HS outside of the science wing."
   Overall, these strategies have clearly affected the lives of students, according to senior Tally Zeller. 
   "I am happy to be back in school full time because I get to see my friends more often," Zeller said. "Things are definitely returning to normal. Also, any changes to keep us in school permanently are totally welcomed, especially because I've realized, like many others, that I learn a lot better in person."
   Similarly, freshman Alex Jylkka described his perspective on said changes as a newcomer in high school. 
  "I am really happy to be in school and be with my friends. I can't imagine going back to hybrid learning at all, so I really hope that doesn't happen."
   Ultimately, the goal for the WHS student body and community is to remain safe and healthy. 
   "Our students have been through so much. Let's work together now so that we can get to where we want to be," Peri said.