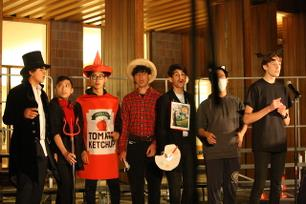 Jonathan Eldridge
   Weston High School students often enjoy performances from one of the school's three a cappella groups at assemblies, but many may not realize that these groups are self-governed and exist outside of the school's music program. The Town Criers, an all-male a cappella group, the Pralines, an all-female group, and Team AC, a coed group, together provide entertainment for WHS and the Weston community while also creating a positive environment within their teams.
   Instead of relying on instruments to create music, all of the a cappella groups depend upon their singers' voices to create all needed sound as they perform. The collaboration this requirement creates provides a unique experience for the vocalists and their audiences. 
   "Anybody watching us perform can feel that energy that we want them to feel," senior and Town Criers member Joshua Lee said. 
   A common feature of all the a cappella groups is that they are made up of a diverse mix of students, including people from all grades and with varied interests outside of the groups. Participants do not have to be trained musicians to get involved.
   "We are filled with a ton of people with different interests: athletes, actors, artists," said senior and Pralines co-president Natalie Ladocsi.
   Ladosci is typical of this diversity: She has always loved music, has been in chorus since sixth grade, and has participated in various ensembles throughout high school including Jazz Choir, Concert Choir, and, of course, the Pralines. In addition to music, she also likes to play basketball and soccer.
   "Many people in my family play instruments, and I have always enjoyed singing," said Ladocsi. "Music pumps me up before games and allows me to express my emotions and has been a good outlet."
   Elizabeth Crawford, Pralines' co-president and Musical Director, like Ladocsi, has a particular talent for music that she has developed over her entire life. 
   "I grew up in a house full of instruments and music, so I've been involved in it my whole life," said Crawford. "I am in Concert Choir, Jazz Choir, Pralines, and was in the NEC Camerata and Youth Chorale freshman, sophomore, and junior years. I also have done Junior. Districts, Senior Districts, and All-State chorus."
   President of both the Town Criers and Team AC, senior Alex Muzila was also encouraged to pursue music from an early age, and followed in his older brother's footsteps by joining the a cappella groups. All of these seniors have worked hard to earn their leadership positions in the a cappella group.
   "It's a great opportunity for leadership, for perfecting one's craft, for being out in the real world, for carrying on a legacy," said Muzila. 
   While the groups differ in terms of membership based on gender, the groups function similarly. For the majority of their meetings, each group tries to catch up, warm up, and practice their current song or songs. For the newer members, the positive feeling of these meetings is particularly helpful to acclimating to the groups.
   "The Pralines immediately felt like a family and as a result, I wasn't nervous to perform with them," said Pralines member, freshman Sofia Sanzone. "It just felt relaxed and fun, and the upperclassmen really helped in relieving any stress when it came to performing."
   Being a part of any of these a cappella groups requires a significant amount of effort and teamwork before any performance can occur.
   "A lot more happens behind the scenes than it seems," said Crawford. "While the school sees us sing one song every couple of months, we are actually actively practicing all year and have many songs that the school doesn't get to hear in assemblies."
   All of the ensembles have a lot of talent and their accomplishments demonstrate that talent. The Town Criers have a long history, having started in 1976, and the Pralines followed closely behind. Team AC, on the other hand, is a relatively new coed group, created when some former WHS performers ask then-WHS chorus director, Dr. Therese Provenzano to help them get started.
   "The kids wanted to start a mixed group especially for kids that really didn't fit into the other groups," said Provenzano. "So I started it, I'm guessing 10-12 years ago."
   Team AC members strive to be inclusive and establish a feeling of connectedness. Muzila, like every other member of Team AC, is pleased about the community that has sprung up around them.
   "We've maintained the intended atmosphere well. It's always been a very supportive and comfortable group, and we aim to continue this experience for current and future members alike," said Muzila.
   Many of the groups' leaders and members can agree that being a part of an a cappella group teaches members how to work as a team, become familiar with people they probably wouldn't have, and further develop leadership skills.
   "The reward far outweighs the risk and nerves you may have when auditioning," said Ladocsi. "Especially as an underclassman, you get to know so many people you may have never crossed paths with. Also being a part of a student-led group teaches you a lot of leadership skills."