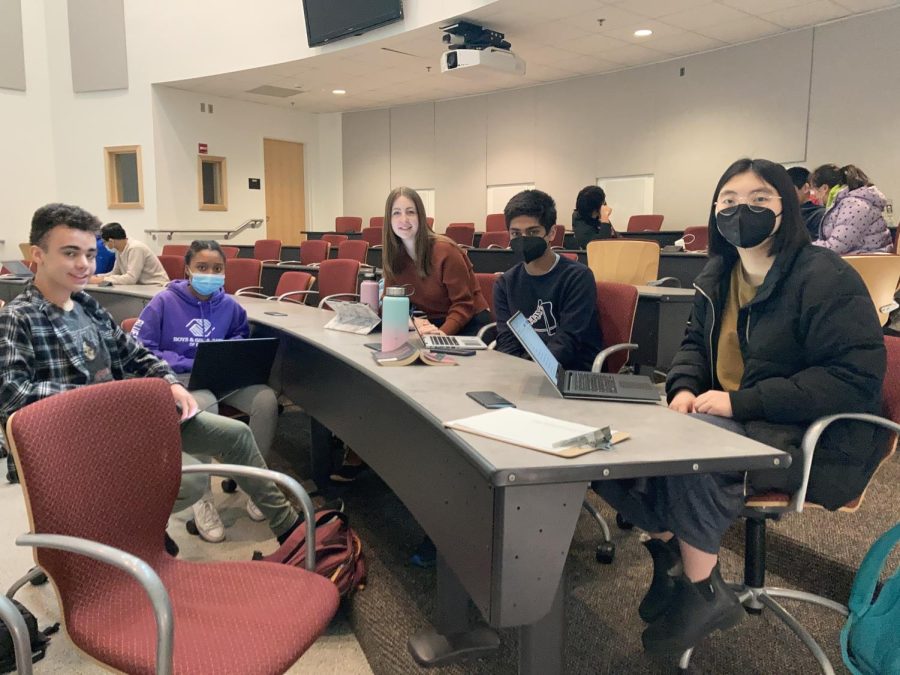 Saavani Datta
   The Diversity, Equity, and Inclusion club (DEI) was formed in December, after a survey of WHS students revealed that only around 30-40% of the student body felt like they belonged at WHS. At the same time, a number of students approached the WHS principal Paul Peri with concerns about the inclusivity of Weston schools. Peri and these students reached out to other students and staff with an interest in these topics, and the DEI club was formed.
   "I got an email when we were starting [the DEI club] and I thought it was a cool idea and that it was something I could do to help, because I think Weston could use more diverse perspectives," said senior Erin Racklin.
   The club's main goals are to continue something that WHS faculty and students have been working on for a while: increasing the inclusivity and unity at WHS.
   "When we first started the club, we [saw] this powerpoint presentation that basically said that 30% [of students at WHS] felt like they belonged at Weston," said senior Kamea Johnson. "[We talked about] what we as a club could do to make everyone feel more included and make them feel like this is an environment where they feel comfortable."
   With this goal in mind, one way the club hopes to create a more inclusive environment at WHS is by eventually changing the school's curriculum to provide education about issues affecting those who feel excluded.
   "We've talked about creating core classes that make people more aware of these [issues]," said Johnson. "Lack of awareness in general will never change when you have the same people gravitating towards the same topics, and we're never addressing the population who might not necessarily want to change the way that they think."
   For some students, this club is a way to advance work they have already been working towards within the school.
   "I've been working for several years now trying to get queer literature included in our English curriculum and queer history included in our history curriculums, and I thought [joining DEI] could be yet another way to try and do  that," said Racklin. "I think that's massively important specifically in the English and history curriculum. [Lack of this curriculum] can lead to a sense of being unmoored [and] not having roots for queer students, [or] feeling that you're just kind of floating and that you're new, which isn't true. Queer history is long and varied."
   The club recognizes that, given the extent of their goals, they will face many challenges as they progress.
   "Even if we want to get certain things done, who knows if it really can happen," said senior Tye McCatty. "We don't exactly have too much power; we're still a student-led [group]. It's not like we're on the school board [or] we have real power to get things done. But I think through enough time and if we package things well, things can get done."
   The DEI club has already made progress, having organized a summit on why WHS students feel a lack of inclusion in the school and having conducted a survey to see why students feel that they don't belong. Still, the club has a ways to go before it can accomplish what it wants to, but the students feel optimistic that the club will make a positive impact.
   "I think that talking about issues that we don't usually talk about and giving people a place to say what they feel is super important, and I think if you don't do that, you're not going to ever really change. I think that our group giving people who are usually not heard a platform is super impactful, and I think it'll change a lot for the school," McCatty said.
   Though many of the students involved will be graduating this year, making WHS a more equitable, welcoming space is a project they are committed to.
    "I don't think that these are short-term goals, so I don't think we're going to see immediate change," said Johnson. "I feel like this is more long-term—laying the groundwork so that when change is made, it's done the correct way and not something that's half done or half thought through."