Students and administration disagree on some handbook rules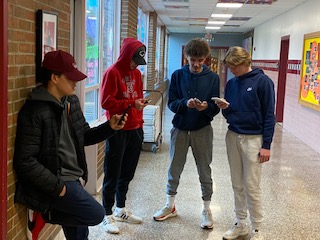 The WHS Student/Parent Handbook covers the rights of each student as an individual, the expectations the school has for each of its students, and the consequences when those expectations are not met. Students do not agree with some of the rules presented in the handbook, however, because they feel they are outdated or not consistently enforced. 
   For example, after the school start time was pushed from 7:45 a.m to 8:45 a.m, the administration added a rule that states that students are not to be in the school building or on school grounds before 8:30 a.m. except on Thursdays when students may come to school at 7:45 a.m. for W block. Students are also not to be in the building past 4 p.m. unless they are participating in an afterschool activity. This rule strikes some students as unnecessary because it is commonly broken; students are frequently early to school and late to leave.  For the administration, this rule is necessary.
   "We've been flexible with this. It's mostly a safety [issue]," said assistant principal Kelly Flynn. "Often teachers and administrators are in meetings [before school], so there's very few adults in the building that can oversee things if a fight breaks out or someone hurt themselves by accident."
   Some students feel this rule should be reconsidered.
   "If someone's parents need to drop them off early because they have to go to work, or they take the bus and it gets [to school] early, then they should be allowed in the school," said junior Matthew Korbin. 
   There's another rule in the handbook that also limits the places a student is allowed to go at certain times. This rule states that students are restricted from being in the auditorium, all music and theater rooms, the gymnasium, weight room facilities, locker rooms, computer labs, and at the pond unless supervised by a faculty or staff member. Students however, are often in these areas unsupervised.
   "It's just supervision in general," Flynn said. "The weight room to me is very dangerous without supervision, locker rooms and computer labs have equipment. There's equipment in the auditorium." 
   Flynn does not see this rule being erased from the handbook. In fact, every school in Massachusetts has to have a rule limiting where students can go without supervision. The controversy for students comes due to the areas that are restricted. 
   "[If] the teachers have that sense of trust towards the students and they let them use [the weight room], the students sense that trust,'' said freshman Matthew Blandon, arguing that students will behave appropriately when trusted to do so. 
   Unlike the supervision rule, another rule is geared more towards juniors and seniors, stating that if a student needs to access their vehicle during the school day, they must sign out at the attendance office prior to going to their vehicle. Seniors who have open campus, however, have the right to go to their cars during free blocks without signing out.
    "We put this in place to stop students from going to their cars and doing something they shouldn't," said Flynn.
   Flynn is doubtful that this rule will change, but this rule is hard to enforce given manpower limitations.
     Senior Gianna Depina doesn't believe the rule is necessary.
  "You shouldn't penalize us as a whole class," said Depina.  "I don't think that's fair for kids who do have cars and [deserve] that freedom to drive in and out of school." 
   The final rule is the rule on cell phones. The handbook states that students can only use cell phones in the cafeteria or outdoors. If a cell phone is used during a class or in the library, it will be taken away. This rule is rarely enforced.
  "I think that's one we need to discuss more thoroughly," said Flynn.
   Sophomore Abbi Gili agrees with Flynn that this rule imay be ready for reconsideration.
   "I definitely at times need my phone in the hallway,'' said Gili. "If I'm texting my mom I don't want it taken away from me."
   While students' opinions may differ from Flynn's about whether some of these rules should stay, they are currently in place and can be applied. While they aren't consistently enforced, a faculty member could point to these rules in the handbook and tell a student to follow them, even if most of the time they are ignored. Because of this Flynn is open to looking through some of the rules in the handbook with students who might disagree with them.
   "I would be happy to form a student committee for this to discuss changes or concerns. Some parts cannot be changed, but perhaps there are some areas we could tweak or talk about," said Flynn.