Students compare "The Batman" to "Spiderman: No Way Home"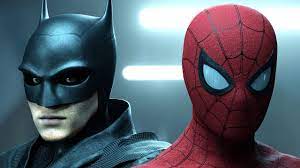 Hollywood recently released two of the most anticipated superhero movies. "The Batman," which was released in early March, was described by fans as DC's perfect creation of the violence and darkness for which this superhero is known. Lovers of the Marvel Universe's Spider-Man film trilogy see "Spiderman: No Way Home" as a legendary conclusion to that series.
   Since "The Batman" was released, opinions have varied about which film is better. This popular topic has been circulating,  from heated debates on social media to casual conversations in school.  Was "The Batman" able to usurp the throne of being the best superhero movie of this year? Or does "Spider-Man: No Way Home" still reign supreme? Students at WHS have opinions on both sides. 
   Many students' initial reactions to the two movies was very clear, favoring "Spiderman."
  "'Spiderman' was definitely better," sophomore Evan Gilbert said.  "I just liked the character dynamic and simply the characters themselves so much better in the Spiderman movie than in 'The Batman.'" 
   Not everyone at WHS feels as certain as Gilbert, however.
   "For casual moviegoers, both movies are a great experience," said senior Daniel Tilton. Tilton  was unable to decide which movie he liked better, but he provided many insights on the good and bad of both movies. 
   "The sense of immersion and grit that comes through the world building in '[The] Batman' is phenomenal. While the movie starts to feel like a drag in the later half, it still is able to tell a full story and makes you question the morality of its characters and question aspects of our society," said Tilton. 
   Many agree with Tilton that "The Batman" has a completely different vibe than "Spiderman: No Way Home," so depending on a watcher's preference, either film could be the favorite. 
   "The dark ambiance throughout 'The Batman' didn't appeal to me," said junior Shreya Mehta. Metha doesn't claim to have an extensive  knowledge on the topic, but after watching both movies, she concluded that it wasn't her favorite.
   On the flip side, those who have claimed to enjoy the experience of watching "The Batman" more like it because of the dark ambiance and the fact of finding empathy for the hero, Bruce Wayne. 
   "'The Batman' is more relatable.  He deals with emotional trauma from a young age, [so] I feel like it's easier to find empathy for him," said sophomore Max Burd. 
   "The Batman" movie clearly doesn't appeal to everyone, but those who are more avid comic book readers have agreed on the fact that this film's Bruce Wayne was the closest adaptation to the character from the comics that they have ever  seen in Marvel and DC movies.
   Many fans agree that even though it has  its serious moments, those who are looking for a more light-hearted movie would like "Spider Man: No Way Home" more due to its more comedic tone and its ability to get a laugh out of anyone while still gripping their  seat in awe of the action. 
   According to Box Office Mojo by IMDbPro, in both film's opening weekends, "Spiderman: No Way Home" grossed $260.1 million domestically  and "The Batman" grossed $120 million domestically, indicating that Spiderman was the more popular overall.   Even though "Batman" is and will continue to be hugely popular, in terms of statistics and profit, most experts believe  that beating "Spiderman's" mid-pandemic record is not going to happen. Both franchises are big, but "Spiderman" is much bigger and is expected to stay that way.   
   The success of the "Spiderman" era is not just due to "Spiderman: No Way Home." History proves that Marvel films have always outperformed DC creations. 
   "Take it out of the picture, and the prior seven live-action films since 2001 that starred the character of Peter Parker averaged 13 percent more (inflation adjusted) than nine live-action DC Comics titles since 1989 that centered on the Caped Crusader,"wrote Tom Brueggemann for IndieWire, a film industry and review website.
   For most Weston High school students, the consensus of why "Spiderman: No Way Home"  outshines "The Batman" comes down to the dynamic of the characters and the emotional journey taken by the characters that brings the audience along for the ride. 
    "I loved 'Spiderman' because it made me experience laughter, sadness, reminiscing of my childhood, and of course, the love story of  Peter Parker," said Hayden Zeller, Weston High alumna.